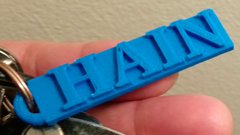 Awesome! Got around 2 hours of 3D lecture, hands-on and printing session – all for free!
I was actually scheduled to attend the lecture a week later but I took my chances anyway, hoping few attendees will miss their schedule. I really thought it would be a full house as these are free sessions. I was a bit surprised nobody's still around at scheduled time so I chatted with the teacher and asked if I could attend. I was allowed so I sit right in the front seat. There are only like total 6 of us, one is not even attending, just sitting there to use the computer for his own project. And the venue can accommodate 12 people.
Lecture went well, actually just an hour was spent on it. The other hour was spent on printing. That small piece of around 1.4×5.4×0.4 cm took around an hour from preparations to actual printout pictured here. Preparations included the following:
Loading the filament
Warming up the printer
Downloading the 3D file
Processing the 3D file to ensure correct scale
Copying the processed 3D file to the USB stick
Putting the USB stick to the 3D printer
We were actually not aware that we can print our mini project for free but our teacher mentioned it before we finish our lecture. In the session's flyer, it was stated that we have to bring our own USB stick. I did not bring any but our teacher volunteered to lend us, so I got excited and finished in a hurry a keychain project suggested to us.
In the first few minutes of printing, it was confusing for me because it did not look like the object I have drawn. Turned out, it have to first print a base so the rest of the object would be printed on it, improving printing accuracy by doing it on a more stable surface. I almost cancelled the printing process but I decided to just let it take its turtle pace. I spent time instead reminiscing of CAD plotting decades ago. Sure is much more interesting watching 3D printing compared to plotting in tracing paper.
After more than 30 minutes of actual printing, it was done. I'm still confused because the printed object is way more than what I've drawn. Then our teacher brought out a spatula, scraped the 3D stuff out of the printer. After being removed from the printer, it was like peeling an orange, removing the extra objects. Finally, the 3D object I've drawn an hour ago was handed over to me :)
As for technicalities, here are what we used in the session:
A computer with internet connection
TinkerCAD (A free online CAD software :)
User's TinkerCAD account
Makerbot Replicator 5th Gen 3D Printer
Filament (blue)
USB stick (bring your own)
Oh by the way, we did it at Chinguacousy Library near Bramalea City Centre, just beside the Bramalea Bus terminal.
About 3D printing technology, it sure is exciting with much more advancements to come. My prediction is, just like paper printing which started from dot matrix using ribbon, to ink to laser printer – I look forward to 3D printing using cartridges that prints in color. That would be an exciting development to watch. Ultimately, printings would develop into holographic projections and replicators ala Star Trek, which I hope to see in my lifetime.
Godspeed!